Retired Swiss defender Philippe Senderos had a relatively average career but one season stands out and that was when he led Arsenal all the way to the Champions League final stopping the richly assembled Galaticos on the way. Philippe Senderos was almost unplayable during the 2005/06 Champions League season.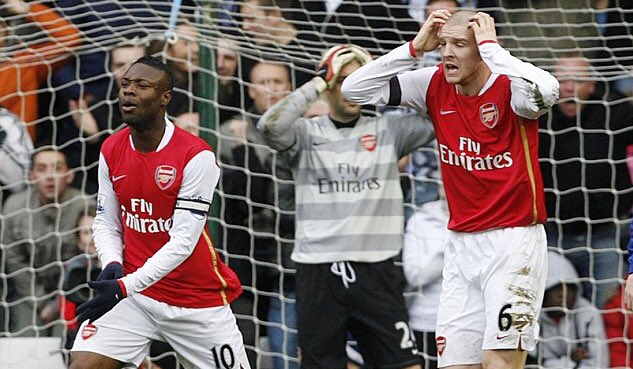 During that 2005/06 campaign, Philippe Senderos formed an unshakable central defensive partnership with Ivorian football icon KoloToure. Ivorian right-back Emmanuel Eboue and French midfielder turned left-back MatheuFlamini completed the magnificent back four for the Gunners.
Senderos and the other three warriors defended stoutly on the way to Arsenal setting a new record for the most Champions League clean sheets in quick succession( 10). The Swiss player helped the Gunners to keep a clean sheet from their third group game and all the way to the final.
Philippe Senderos played for 630 minutes without conceding any goal in the Champions League that season. His biggest test was facing the Galaticos of Real Madrid over two legs and he managed to pass the test in flying colours. The giant of Geneva marshalled the Arsenal backline well alongside Toure as expensive Real Madrid superstars like Zinedine Zidane, Ronaldo, Raul Gonzalez and David Beckham fail to find a way past the Gunners over the two legs. The Spaniards didn't manage to score at least one goal.
Senderos was very unlucky to miss out on the final as Arsenal boss Arsene Wenger opted for the experience of the fit-again Sol Campbell. Only God knows what could have happened if Senderoshad started that final. In the end, 10-man Arsenal lost 2-1 to Barcelona.